Windows 10 desktop and mobile hardware
Microsoft has published minimum hardware requirements for both desktop and mobile devices running Windows 10. In what might be considered by some to be a strange quirk, the specs allow 'desktop' devices with screens of just 7-inches while 'mobile' devices can sport screens as large as 7.99-inches. This information came from the Windows Hardware Engineering (WinHEC) conference in China.
Desktop windows PCs, as mentioned above, can have screens as small as 7-inches and resolutions as low as 800 x 600 pixels. The memory and storage requirements vary depending on whether the device packs 32-bit or 64-bit Windows. These are 1GB RAM/16GB storage and 2GB RAM/20GB storage respectively. Devices must use the UEFI 2.3.1 firmware interface and a Trusted Platform Module (TPM). Minimum graphical requirements are a DirectX 9 compatible GPU. Tablets require at least a power and volume up/down control with rotation lock and Start Button optional.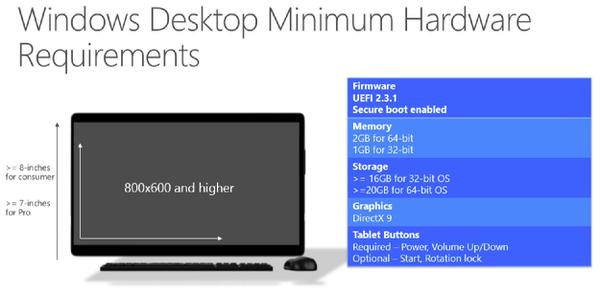 Mobiles powered by Windows 10 have the same UEFI, graphics and required buttons as the tablets above. Optional buttons include Start, back and search but these buttons must be implemented in the lowest resolution (WVGA, 800 x 480 pixels) phones due to no spare screen space for these controls. Mobile storage must be at least 4GB, supplemented by an SD card in that case. RAM must be at least 512MB for 32-bit.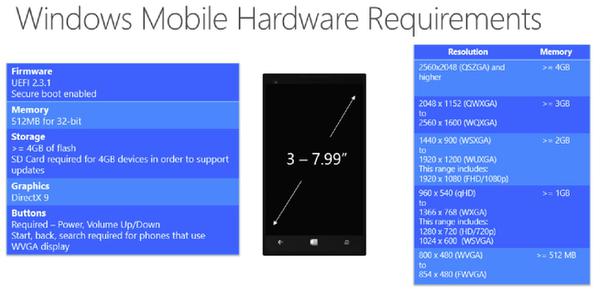 As mentioned above, screen sizes of Windows 10 mobiles can be as big as 7.99-inches. Screens as small as 3-inches are also OK. Screen resolutions and minimum RAM requirements are related and shown in the table directly above (click to enlarge it). You can see that Microsoft will require 4GB of RAM or more on devices with 2560 x 2048 (QSZGA) or higher res screens.
Other minimum phone must-haves include the obvious; a cellular radio supporting data and voice, a loudspeaker, earpiece and microphone, headphone jack, vibration ability.
Source: Hexus
The bottom line for any User2 customer is that if you bought your system in the last 2 years there is a 99% chance you will be able to upgrade to Windows 10 when it is released.
If you are at all unsure please feel free to contact us through the  usual channels.